Jennafer Martinez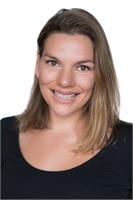 Simply one of the nicest human beings you could possibly meet...until you do her class that is...Jennafer likes speed!!! In a recent CERN study, it was found that Jennafer's acceleration is faster than both Higgs and Bosun combined, with time to spare for a great big smile at the finish-line. A real all-rounder who can't get enough of high-intensity training, be it kickboxing, gym and so on...Match this up with a highly varied and always impeccable music selection and the 50 minutes fly by (faster than an F15 fighter pilot who's left the oven on). Serious calorie-burners!!
Jennafer Martinez instructs the following:
LET THE RHYTHM TAKE CONTROL! Roger likes to switch between different music styles and different workouts but most important is "the beat", the beat is your friend. Especially when we are going fast, but also in that crazy climb that make your wheel glow in the dark.