Lisa Bean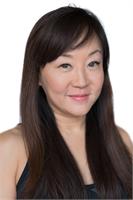 "Never bored!" is our motto when you book Lisa's spin on Wednesday nights. Join us for a 55 minute journey accompanied with a playlist synched up perfectly to your moves. And by moves we mean the whole gamut. You'll rip through a special section completely devoted to sculpting your triceps using elastic bands and a weighted bicep workout. You'll have a quick run with a variety of seated and standing
positions, hip isolations, and chest pumps. And the best part? The focused stretch section when you get off the bike and let out a sigh of "ahhhhh.'" So clip in and get ready to hit all the right parts.
As a certified barre and pilates instructor and a Spinback certified instructor, she brings fun choreography and innovative safe movements to the bike. When she's not teaching a class, she's taking a yoga class. She also holds a diploma from the International Culinary Center in New York.
Do some good for yourself and for the local strays. Every time your clip in on Wednesday nights, 15% of the fees will go the the SOS Animal Volunteer organizations. Who says you don't have time to volunteer for charity?
Lisa Bean instructs the following:
You can dial it up a notch to maximise calorie burn and build core strength between the bikes and mat work. Get sweaty as Lisa takes you through tabata sprints, hill climbs, and arm work with bands to a kicking playlist on the bikes for the first 40 minutes before building core strength on the mat with various planks, pilates teasers and oblique twists with weights for the last 20 minutes of the session!