Alex Bronder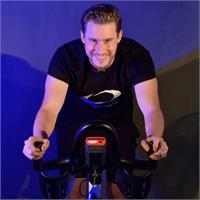 A.K.A. "The Juice-in-ator"
"Press de siste dråper saft ut av sitronen or squeeze the last droplets of juice out of the lemon." This is how they do it in Norway. Just when you think you've maxed out in his power interval training class style, he manages to push and push so that you give that little extra you think you didn't have. Oh, and it's not with smiles and giggles either as this Norwegian, who comes from a lineage of 11 generations of military officers, shouts "GO,GO, GO!" during his super sprint speed drills. Perhaps he missed his calling as a Sergeant but Spinbackers are lucky to burn off major calories and enjoy his American side with good taste in music. Heavy climbing with some thumping beats in class, catch "Pompei" by Bastille and "Something New" with Axwell Ingress as the switch and bait happy warm up. When not on the bike, Alex is an avid gym goer and skies in the winter (born with skis on). So when you see him in class and ask yourself, "Really, can the human body really pedal that fast?" think of his mantra for all you Spinbackers: "You have to do what others won't, to achieve what others don't."
Alex Bronder instructs the following:
LET THE RHYTHM TAKE CONTROL! Roger likes to switch between different music styles and different workouts but most important is "the beat", the beat is your friend. Especially when we are going fast, but also in that crazy climb that make your wheel glow in the dark.